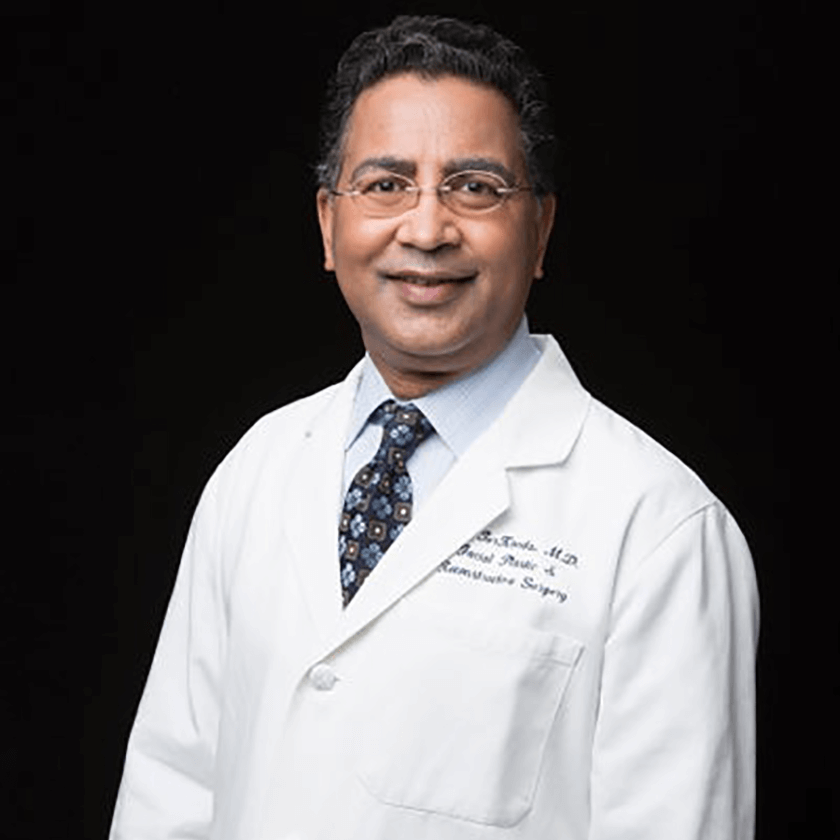 Dr. Raj TerKonda is an esteemed facial plastic surgeon currently practicing at Cherry Creek Face and Skin in Denver, Colorado. His career spans over 25 years, including practicing in Beverly Hills, CA, with world-renowned dermatologist, Dr. Zein Obagi, and teaching facial plastic surgery at the University of Florida. He graduated from the University of Missouri-Kansas City where he won numerous awards and honors, including the John C. Hunter award for academic excellence in anatomy and the Lange Publishing Company medical student award. He completed a six-year residency in otolaryngology-head and neck surgery at the University of Minnesota and a fellowship in facial plastic and reconstructive surgery at the University of California-Davis. Throughout his career, he has made numerous presentations, publications, and has been honored with several awards, including the Consumer Research Council of America's Top Plastic Surgeons award and The Global Directory's Top Doctors in Facial Plastic Surgery award.
View Dr. TerKonda's CV here
Dr. TerKonda is an active member of the following societies:
American Academy of Otolaryngology-Head and Neck Surgery (AAO-HNS)
American Academy of Facial Plastic and Reconstructive Surgery (AAFPRS), fellow
American College of Surgeons (ACS)
American Academy of Sleep Medicine (AASM)
Alpha Omega Alpha (AOA)
Phi Kappa Phi (PKP)
Specialties and Expertise
Dr. TerKonda is triple board-certified in facial plastic and reconstructive surgery; otolaryngology-head and neck surgery; and sleep medicine. He specializes in comprehensive transformation of the face using medical skincare and chemical peels; injectables such as BOTOX®, Dysport®, and dermal fillers; laser treatments and peels; facial plastic surgery including rhinoplasty, face and neck lift, chin augmentation, blepharoplasty and brow lift. Unlike most plastic surgeons, Dr. TerKonda personally performs ALL procedures himself, and does not employ aestheticians and nurses to perform skin treatments or injectables.
Reviews
"Thank you Dr. Terkonda! I went in for a chin implant because I inherited my mothers weak chin. Dr. Terkonda and I had a good discussion about the symmetry of my face specifically that I have a round face and the result I was looking for was a more angular masculine jaw line. He explained the difference between a chin implant and genioplasty.He explained how genioplasty would actually pull the muscles attached to the bone in my chin forward and give my face a slightly more angular look. Because of my round face he also performed lipo under my chin and buccal fat removal. It's been 6 weeks and I am extremely pleased with the results. The recovery was just as he explained, I was out of work only a couple of days and the majority of the swelling was gone in 10 days."
R.
Healthgrades
"Doctor Terkonda was absolutely excellent in his diagnosis, treatment options explanation, and surgery. Where as I could not breath before because the side of my nose had been crushed from an assault, I can breath well now! Insurance I used at the time was Blue Cross.Dr Terkonda has a great bedside manner, and really cared about me and my outcome. His surgical skills were awesome performing a septoplasty, turbinate reductions, in addition to other items in the same visit. Make sure to consult with this doctor if you need help with your nose and sinuses for breathing, have suffered traumatic injury, or would like cosmetic surgery. The doctor did top-notch care and work from beginning to end."
A.
Healthgrades
"Dr. Terkonda is a wonderful doctor! I saw him for sleep apnea and recurrent sinus infections. He was very thorough, compassionate and wanted to get to the root of my issues. "
J.
Healthgrades
"PhD - wise, helpful , well likes, easy to communicate with"
Anonymous
Vitals
"Dr. Terkonda is thorough, empathetic, and respectful. He truly cares about his patients and their well-being. It is not often that you are able to find a Doctor like him these days. The staff members are also welcoming, friendly, and helpful. Dr. Terkonda and his amazing team always make each visit an enjoyable experience. I would highly recommend him to anyone and everyone!"
S.W.
Yelp
Related Posts