What Is Nasal Obstruction?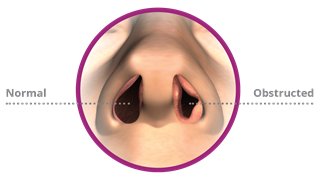 Many people with nasal obstruction experience difficulty breathing through their nose, habitual snoring, interrupted sleep and fatigue.
Nasal obstruction is often caused by anatomical blockage in the nose, hindering airflow. As a result, you may feel congested or "stuffy." Home remedies and medications may offer temporary relief. It's only when your nasal airway is opened that you can expect to find real, lasting relief.
Common symptoms of nasal obstruction include:
Trouble breathing through your nose
Nasal congestion
Difficulty sleeping
Difficulty breathing during physical exertion
Reviews
"I am thankful for the excellent care Dr. Raj Terkonda provided me. I am very blessed to find a doctor who truly cares, who is very knowledgeable and professional. Thank you sir for the great care and surgery you performed on me. I can breathe now. I can sleep, and I can smell and taste. Yay! I strongly recommend him to friends, family or anyone who is in need of a doctor who cares and who strives in excellence!"
- Y.L. /
Google /
Apr 14, 2023
"Dr. Raj Terkonda and his staff gave us a perfect service and outcome for a deviated septum. The doctor was very thorough in diagnosis, treatment plan, and instructions. The office staff did all of the work to ensure that our procedure and pre-ops were pre-authorized by Aetna and scheduled quickly. We wished we hadn't deferred this procedure for so long, but waiting for the right doctor and team is everything!"
- S.C. /
Google /
Apr 07, 2023
"Dr TerKonda went above and beyond with my surgery to repair a deviated septum, and I can breathe much more clearly now. The admin side of the office has a few things to sort out with duplicate billing and wait communication issues, but I highly recommend the medical care/treatment."
- I.T. /
Google /
Mar 20, 2023
"Dr. TerKonda fixed my deviated septum and excess tissue. Surgery was a success and he and his team are very caring every step of the way."
- K. /
Google /
Dec 22, 2022
"I just had a septoplasty and nasal valve repair. I appreciate that Dr. Terkonda took his time to make sure that I was safe to have surgery. The medication he prescribed for the nasal drip was better than four years of receiving allergy shots. Nasal drip has gotten far better postop, but every now and then I still use the medication. I cannot believe this is how everyone else breathes and smells! Are you kidding me? Absolutely amazing."
- H.L. /
Google /
Sep 16, 2022
Previous
Next
Lasting relief is possible. Until now, finding a long-term solution often meant surgery. Now, Dr. Raj TerKonda and the team at Cherry Creek may be able to offer you lasting relief by performing a noninvasive VivAer treatment to open your nasal airway.
After confirming that you are a suitable candidate for VivAer, we will apply local anesthesia to the inside of your nose, and then use the VivAer wand to delicately remodel your nasal passage and improve airflow. The VivAer wand works by applying radiofrequency (RF) energy to the nasal airway.
The VivAer treatment is clinically shown to provide high satisfaction and lasting relief. Patients typically return to normal daily activities the same day.
Clinical findings show that:
97% of patients experienced significant improvement in nasal breathing
94% of patients improved their ability to get enough air through their nose during exercise or exertion
89% of patients reported getting a better night's sleep
Am I A Candidate For the VivAer Treatment?
To find out, take these two simple tests.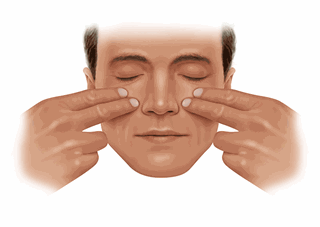 Cottle's Maneuver
Step 1. Place two fingertips on your cheeks, on each side of your nose.
Step 2. Gently press and pull outward to open your nasal passage further. While holding, breathe through your nose.
Did the Cottle's maneuver help you breathe better? If so, you may be a candidate.
NOSE Score
Complete this questionnaire.
Related Procedures
Related Posts