What Is Nasal Obstruction?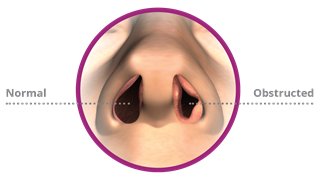 Many people with nasal obstruction experience difficulty breathing through their nose, habitual snoring, interrupted sleep and fatigue.
Nasal obstruction is often caused by anatomical blockage in the nose, hindering airflow. As a result, you may feel congested or "stuffy." Home remedies and medications may offer temporary relief. It's only when your nasal airway is opened that you can expect to find real, lasting relief.
Common symptoms of nasal obstruction include:
Trouble breathing through your nose
Nasal congestion
Difficulty sleeping
Difficulty breathing during physical exertion
Reviews
"Dr. Terkonda is thorough, empathetic, and respectful. He truly cares about his patients and their well-being. It is not often that you are able to find a Doctor like him these days. The staff members are also welcoming, friendly, and helpful. Dr. Terkonda and his amazing team always make each visit an enjoyable experience. I would highly recommend him to anyone and everyone!"
- S.W. /
Yelp /
Jan 17, 2022
"Thank you Dr. Terkonda! I went in for a chin implant because I inherited my mothers weak chin. Dr. Terkonda and I had a good discussion about the symmetry of my face specifically that I have a round face and the result I was looking for was a more angular masculine jaw line. He explained the difference between a chin implant and genioplasty.He explained how genioplasty would actually pull the muscles attached to the bone in my chin forward and give my face a slightly more angular look. Because of my round face he also performed lipo under my chin and buccal fat removal. It's been 6 weeks and I am extremely pleased with the results. The recovery was just as he explained, I was out of work only a couple of days and the majority of the swelling was gone in 10 days."
- R. /
Healthgrades /
Jun 18, 2021
"Dr. Terkonda is a wonderful doctor! I saw him for sleep apnea and recurrent sinus infections. He was very thorough, compassionate and wanted to get to the root of my issues. "
- J. /
Healthgrades /
Jun 05, 2021
"Doctor Terkonda was absolutely excellent in his diagnosis, treatment options explanation, and surgery. Where as I could not breath before because the side of my nose had been crushed from an assault, I can breath well now! Insurance I used at the time was Blue Cross.Dr Terkonda has a great bedside manner, and really cared about me and my outcome. His surgical skills were awesome performing a septoplasty, turbinate reductions, in addition to other items in the same visit. Make sure to consult with this doctor if you need help with your nose and sinuses for breathing, have suffered traumatic injury, or would like cosmetic surgery. The doctor did top-notch care and work from beginning to end."
- A. /
Healthgrades /
May 03, 2021
"PhD - wise, helpful , well likes, easy to communicate with"
- Anonymous /
Vitals /
Sep 22, 2019
Previous
Next
Lasting relief is possible. Until now, finding a long-term solution often meant surgery. Now, Dr. Raj TerKonda and the team at Cherry Creek may be able to offer you lasting relief by performing a noninvasive VivAer treatment to open your nasal airway.
After confirming that you are a suitable candidate for VivAer, we will apply local anesthesia to the inside of your nose, and then use the VivAer wand to delicately remodel your nasal passage and improve airflow. The VivAer wand works by applying radiofrequency (RF) energy to the nasal airway.
The VivAer treatment is clinically shown to provide high satisfaction and lasting relief. Patients typically return to normal daily activities the same day.
Clinical findings show that:
97% of patients experienced significant improvement in nasal breathing
94% of patients improved their ability to get enough air through their nose during exercise or exertion
89% of patients reported getting a better night's sleep
Am I A Candidate For the VivAer Treatment?
To find out, take these two simple tests.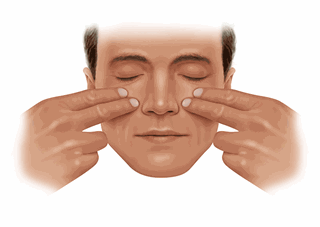 Cottle's Maneuver
Step 1. Place two fingertips on your cheeks, on each side of your nose.
Step 2. Gently press and pull outward to open your nasal passage further. While holding, breathe through your nose.
Did the Cottle's maneuver help you breathe better? If so, you may be a candidate.
NOSE Score
Complete this questionnaire.
Related Procedures